Roof Cleaning Toledo Ohio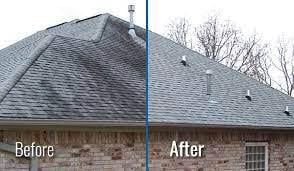 Soft Roof Cleaning - The Safe Way to Clean Your Roof
Have you heard about Soft Roof Cleaning? You know those ugly black streaks that have plagued your roof for years? The noticeable discoloration on your shingles? You don't have to live with them anymore because we can remove them safely and effectively. We know you're tired of living with it and so are your neighbors!
A Power Wash Company offers a safe – low pressure cleaning process known as "soft washing" that will bring your roof back to life and back to its original color!
Soft washing is a safe and effective cleaning method that involves the application of a biodegradable cleaning solution, resulting in the removal of algae, mildew, bacteria and other organics.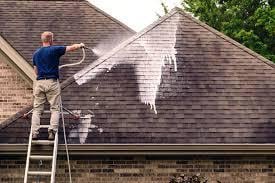 WE GUARENTEE ALL OUR WORK! Save Your Roof, Don't Replace It!
Most homes around the Toledo Metropolitan Area are roofed with standard asphalt shingles. These shingles look great initially, but overtime become discolored and streaked. The discoloration and streaking is NOT dirt. It's in fact a form of algae that's growing on the roof's surface.
There are three things algae need to thrive: heat, moisture and nutrients. Toledo's hot-humid climate provides the heat and moisture and the limestone in the shingles provide the nutrients.
The algae feed on the limestone, which breaks down the composition in your shingles. The granules protecting your roof will loosen and begin to fall off, causing your shingles to deteriorate and lead to pre-mature aging of your roof. This unsightly roof algae will reduce the life of your roof, decreasing both curb appeal and your property value.
Why chose us? Our system is safe, effective and eco-friendly. If you're asking yourself "Why should I have my roof cleaned?" If the instant curb appeal isn't enough, you'll also maximize the life of your asphalt shingle roof, potentially saving you thousands in repair costs.
We DON'T EVER use a pressure washer on your roof. We use only the recommended and approved cleaning methods by ARMA (Asphalt Roofing Manufacture Association) as well as the shingle manufactures.